Students "Change Kids' Health, Change the Future" on Child Health Day
On October 7, 2019, Miracle Network Dance Marathon programs all over the nation celebrated Child Health Day. Students from 244 campuses joined efforts encouraging their communities to "Change Kids' Health, Change the Future" by joining their Dance Marathon program, donating to their Dance Marathon or spreading the word that children's hospitals need donations.
Child Health Day is a United States Federal Observance Day observed on the first Monday in October. In a Presidential Proclamation in 2013, President Barack Obama said "On Child Health Day, we are reminded of our first, most urgent task—to protect and develop the health of our children. Today, let us reaffirm our commitment to our Nation's youth and remember our future depends on their success."
This year, Miracle Network Dance Marathon programs were able to apply for grants to assist with their activation on Child Health Day. These grants made it possible for programs to begin planning months in advance, further engaging their campus and communities on Child Health Day. It is easy to see how much thought went into each program's efforts – and it truly showed the impact these programs have, engaging over 17,000 fundraisers in one day!
In total, there were 8,558 individuals registered as fundraisers for Dance Marathon programs on Child Health Day. The top programs gaining the most registrants were:
University of Oklahoma Dance Marathon: Soonerthon (1,235 individuals)
University of Nebraska-Lincoln: Huskerthon (736 individuals)
IUPUI's Dance Marathon: Jagathon (633 individuals)
University of Mississippi: RebelTHON (446 individuals)
Dance Marathon at Florida State University (285 individuals)
Participants from 244 different campuses received donations on Child Health Day raising $566,327 in a 24-hour period. Below are the campuses that collectively raised the most:
University of Georgia: UGA Miracle ($40,940)
University of Oklahoma Dance Marathon: Soonerthon ($37,297)
Georgia College Dance Marathon ($29,667)
University of Alabama Dance Marathon ($27,259)
University of South Carolina Dance Marathon ($26,669)
Individually, students were able to raise a large portion of their personal fundraising goal on Child Health Day. On Monday alone, 12 individuals raised over $1,000. The top fundraisers were:
Isabella Bernardini, Southern Methodist University Dance Marathon ($2,849)
Taylor Sharkey, University of South Carolina Dance Marathon ($2,253)
Cynthia Hund, Clemson Miracle Dance Marathon ($2,223)
Emma Bible, Clemson Miracle Dance Marathon ($1,595)
Carson Cox, Texas Christian University Dance Marathon ($1,334)
#ChildHealthDay posts had a reach of more than 18.75M, as well as over 22.9M impressions. Programs were able to convey the importance of the day, while individuals shared their passion to #ChangeKidsHealth.
Need ideas to activate new plans for your program? Check out a few ideas below!
Guinathon at Youngstown State University stuffed animals to give to children at their local children's hospital.
Thank you to everyone who helped us #ChangeKidsHealth and stuff animals to donate for the kids at Akron Children's Hospital Mahoning Valley! You have made this such an amazing #ChildHealthDay and we can't thank you enough. ?????? pic.twitter.com/oRs3mkdIet

— Guinathon (@YSU_Guinathon) October 8, 2019
Soonerthon utilized balloons for participants to write their "why" and gain attention all over campus from students. They were able to register 1,241 new participants for their event.
Charleston Miracle had students share their "why" on Child Health Day as they passed their table.
HuskyTHON at the University of Connecticut had participants write their names on flame icons and explain how they dance to "Brighten Tomorrow."
St. Ambrose University Dance Marathon sent some of their Miracle Kids around campus to see how many students knew about Dance Marathon and facts about CMN Hospitals and their local hospital.
Do you know what Dance Marathon is? Could you dance for 13.1 hours for kiddos like Bigby, Bethanie, and Madi?Dance Marathon wants to CHANGE KIDS' HEALTH | CHANGE THE FUTURE#ChildHealthDay #DanceMarathon #ChangeKidsHealthVideo by Perry Petersen

Posted by St. Ambrose University Dance Marathon on Monday, October 7, 2019
Dance Marathon at Florida State University tracked how participants were donating, joining and spreading the word on Child Health Day.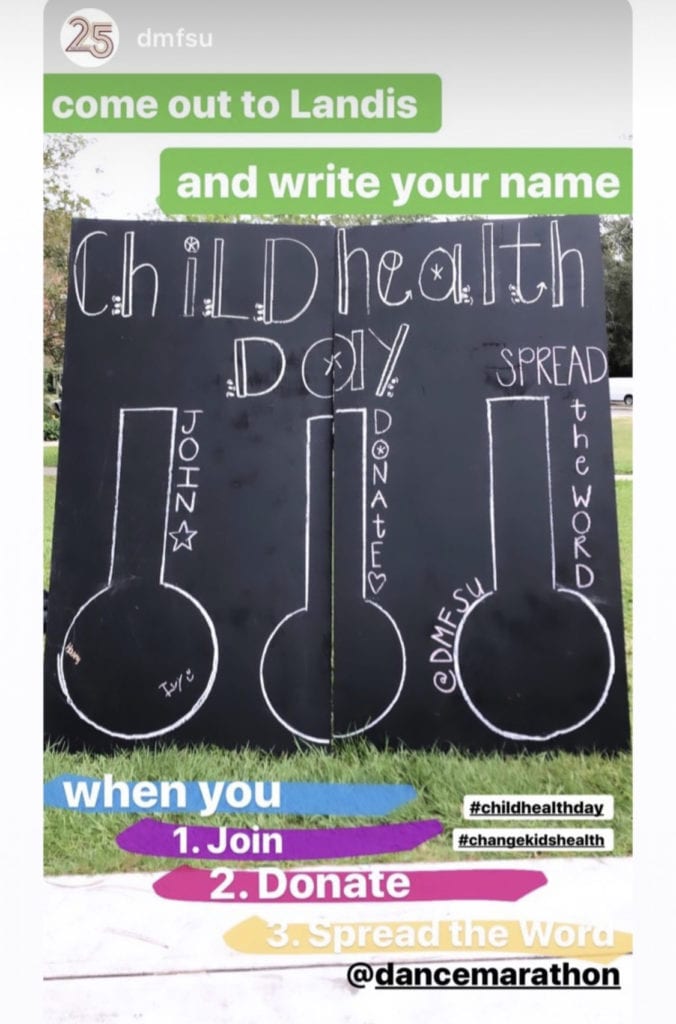 MountaineerTHON at West Virginia University invited representatives from their hospitals' Child Life team to join them while tabling on campus in order to educate students about the impact their fundraising has on their hospital. 
Arkansas Dance Marathon sent out "influencer boxes" to students leaders, administrators, and organizations from across campus on Child Health Day to get them excited about getting involved in their cause and provide them with materials to show their support. 
Fontbonne University Dance Marathon hosted a Nickelodeon themed day filled with fundraising, activities, and, of course, slime, leading them to raise over $7,000 in one day!
South Dakota State University State A Thon focused on raising awareness through displays on campus and tabling. 
OttoTHON at Syracuse University utilized Child Health Day to not only implement a fundraising push day to raise $20,000 in one day, but also to share a video with a representative from their hospital announcing where the funds from their 2019 event would be going to at the hospital. 
After a day spent registering 639 new participants, Jagathon at Indiana University-Purdue University Indianapolis celebrated Child Health Day with a "sparkler reveal," where they lit 62 sparklers for the 62 kids who enter a CMN Hospital every minute. 
ZIPPYTHON at the University of Akron pushed a giant inflatable ball around campus to draw attention to their cause and allowing students to write "what they would do if they were a kid again" on the ball and provided giveaways and a discounted registration fee. 
Clemson Miracle at Clemson University created an exciting Child Health Day experience on campus to help raise awareness and reach their goal of registering 232 new participants. They had photo opportunities, activities, and more! 
Hatterthon at Stetson University hosted a "Shakin' It For The Kids" event, where they offered free milkshakes to students while providing them with an educational opportunity to learn about the cause and how their fundraising makes an impact. 
University of Alabama Dance Marathon posted a series of videos to share about the cause and families impacted by their local hospital, while also taking over campus and raising over $35,000 in just 24 hours on Child Health Day!
VOLthon at the University of Tennessee, Knoxville handed out free coffee with customized cups with information about their program and had students wear bandaids on campus throughout the day as conversation starters to help them raise awareness. 
Cal Poly Dance Marathon celebrated Child Health Day with a giant birthday party, with custom treats and birthday invitations filled with information about their organization and their hospital. Learn more about their efforts here. 
Runner Dance Marathon at California State University, Bakersfield spent the day raising awareness by tabling on campus and offering a number of giveaways for students who got involved. 
Dance Marathon at San Diego State University hosted a variety of awareness efforts on campus including creating a flame icon made out of premature baby diapers, passing out buttons, and setting up inspiration stations throughout campus. 
Dance Marathon at the Claremont Colleges hosted a slip and slide kickball event to bring students from all five campuses together and get them excited about their brand new Dance Marathon organization. 
MU Miracle at Mercer University had a pedestrian bridge on campus lit up in CMN Hospitals colors of red and yellow in celebration of Child Health Day. 
Thank you to everyone who made Child Health Day 2019 such a success!
---
Miracle Network Dance Marathon is an international movement, involving over 400 colleges, universities and K-12 schools across North America that fundraise for their local Children's Miracle Network Hospitals. Since its inception in 1991, Miracle Network Dance Marathon has raised more than $250 million–ensuring that no child or family fights pediatric illness or injury alone.
Learn more about Miracle Network Dance Marathon:
Facebook – Instagram – Website – Blog – YouTube