Longtime Akron Children's Hospital leader Bill Considine steps down, President Grace Wakulchik assumes helm
Grace Wakulchik assumes the title of president and CEO of Akron Children's Hospital, effective today, as William H. Considine becomes CEO Emeritus. Wakulchik has been president of the enterprise since July 2017.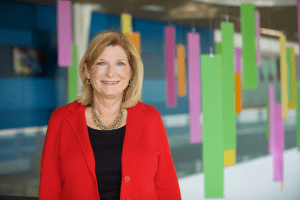 Grace Wakulchik, President & CEO, Akron Children's Hospital
Considine, who has served at the helm of Akron Children's for nearly 40 years, is one of the longest-serving hospital chief executives in the nation, and during his tenure, the hospital has grown into a nationally-known and respected independent, integrated pediatric health system.
"As president and CEO, Grace Wakulchik assumes full responsibility for the operations of the hospital enterprise," said John Orr, chairman of the Akron Children's Hospital Board of Directors, in an announcement to employees. "During her 26 years at Akron Children's, Grace has held various leadership roles, and was named president last year. We are extremely fortunate that we have someone so well prepared to take on this role. Grace has both a clinical and business background, which will serve the hospital well. She has enormous credibility with the Children's family, and embodies the hospital's culture, heritage, mission and family-centered care."
In his new role as CEO Emeritus, Considine will focus his attention throughout 2019 on child advocacy, in particular, continuing his work with state and federal lawmakers to establish stable and equitable funding for children's hospitals through Medicaid and other programs. He will retire from his role as CEO Emeritus on Jan. 1, 2020.
Four decades of growth 
When Considine, at age 32, was named president and CEO in 1979, Akron Children's had an annual operating budget of $35 million, 900 employees and the geographic footprint of one hospital building at the corner of Bowery and Exchange streets in downtown Akron.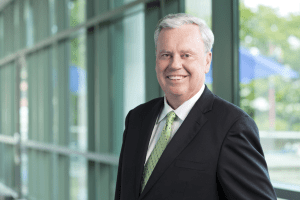 William Considine, CEO Emeritus, Akron Children's Hospital
Today, Akron Children's has a budget of $1.8 billion, more than 6,000 employees, two hospital campuses (Akron Children's Mahoning Valley in Boardman celebrates 10 years this December), and 60-plus locations, including a network of 28 primary care offices, four urgent care centers, affiliations with 30 school districts and dozens of special care nurseries and pediatric specialty care clinics throughout Northern Ohio. The clinical staff provides care in more than one million patient encounters annually.
Three regional health centers are under construction, and the Considine Professional Building, which has been undergoing an $84 million addition, opened in October. This follows the Kay Jewelers Pavilion, which opened in 2015, in reshaping the downtown Akron campus.
This growth – coupled with enviable financial stability – has continued during a climate when other hospitals have closed their doors or merged. But Considine's steady leadership and commitment to keeping Akron Children's an independent, locally-governed children's hospital has not only set it apart, it has become the key to its success.
Considine and Becky, his wife of 46 years have devoted countless hours to Akron organizations and civic causes. Hoping to make an impact on children not only now but in the future, they donated $1 million in 2009 to create the Rebecca D. Considine Research Institute at Akron Children's.
The Year Ahead
As Considine, 71, moves into his role as CEO Emeritus, he will continue to work with the Children's Hospital Association and the Ohio Children's Hospital Association on child advocacy. Events at Akron Children's throughout 2019 will celebrate his four decades of service, including a child advocacy conference in June and a gala celebration in October at Stan Hywet Hall & Gardens.
New Leadership
Wakulchik, 62, began her career as a registered nurse. In addition to receiving her bachelor's and master's degrees in nursing from Case Western Reserve University, Wakulchik earned a MBA from Kent State University and completed the Johnson & Johnson Wharton Fellows Program  in Management for Nurse Executives at the Wharton School and Leonard Davis Institute of Health Economics at the University of Pennsylvania.
As chief operating officer, she oversaw the construction of Akron's Children's $200 million Kay Jewelers Pavilion, featuring a new emergency department, neonatal intensive care unit and outpatient surgery center. Using Integrated Lean Project Delivery, the building was complete two months ahead of schedule and $60 million under budget.
She guided the installation of Akron Children's electronic medical record transformation and MyChart patient portal with an investment of $47 million in 2012. She has also played key roles in initiatives to improve patient access, guide regional growth and help the organization achieve the highly-respected designation as a Magnet facility from the American Nurses Credentialing Center.
According to Orr, the Board of Directors has worked diligently with Considine in developing a seamless transition plan throughout the past three years.
"This plan will build on the hospital's enormous growth and success and maintains our special workplace culture and focus on family-centered care," said Orr. "The board is very pleased with the manner in which everyone is embracing the transition. Bill Considine and his wife, Becky, have given their all to Akron Children's and this community. Words will never capture our admiration for his leadership and service. This transition is a testament to his values and belief in the Akron Children's mission. He and Grace have seamlessly realigned responsibilities and the hospital's momentum has not missed a beat."