Youngstown State University Senior Receives 2019 Miracle Network Dance Marathon Distinguished Leadership Award
From the thousands of graduating seniors who have participated in Miracle Network Dance Marathon at the approximately 300 colleges and universities across the U.S. and Canada, twenty students were selected to receive the 2019 Miracle Network Dance Marathon Distinguished Leadership Award for making an exceptional impact within their Dance Marathon program, on their individual campus and for their local Children's Miracle Network Hospital. To see all of this year's recipients, click here.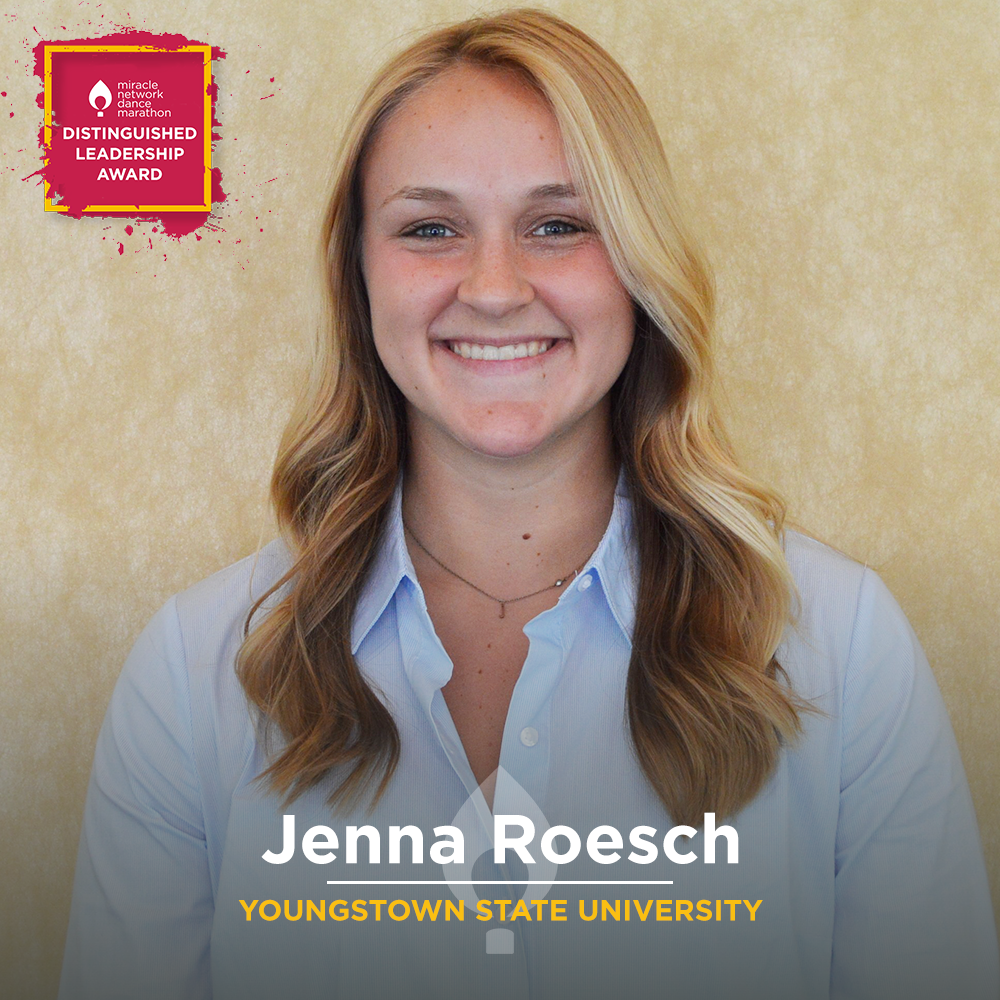 Hometown: Erie, Pennsylvania
Degree(s): Bachelor of Arts in Communication Studies; Minors in Marketing & Nonprofit Leadership
Dance Marathon Involvement: Over the course of my four years involved with Guinathon: Youngstown State University Dance Marathon, I have collectively raised $5,810 for Akron Children's Hospital.
Founder and Executive Director, Guinathon: Youngstown State University Dance Marathon (August 2015 – March 2018)

Established this student organization focused on philanthropy to benefit children and their families challenged by illness and raise funds for Children's Miracle Network Hospitals at Akron Children's Hospital Mahoning Valley (ACHMV)
Worked with university administration through The Division of Student Experience, First Year Student Services, the Office of University Relations and the President's Office.

Year One: Managed an executive board of 10 students. Raised $18K; doubled the average first year program fundraising total in the North East
Year Two: Managed an executive team of 13 students and 10 committee members. Raised $45K; increased fundraising YOY by 147%
Year Three: Participated as a team captain dancer, contributing to a fundraising total of $58K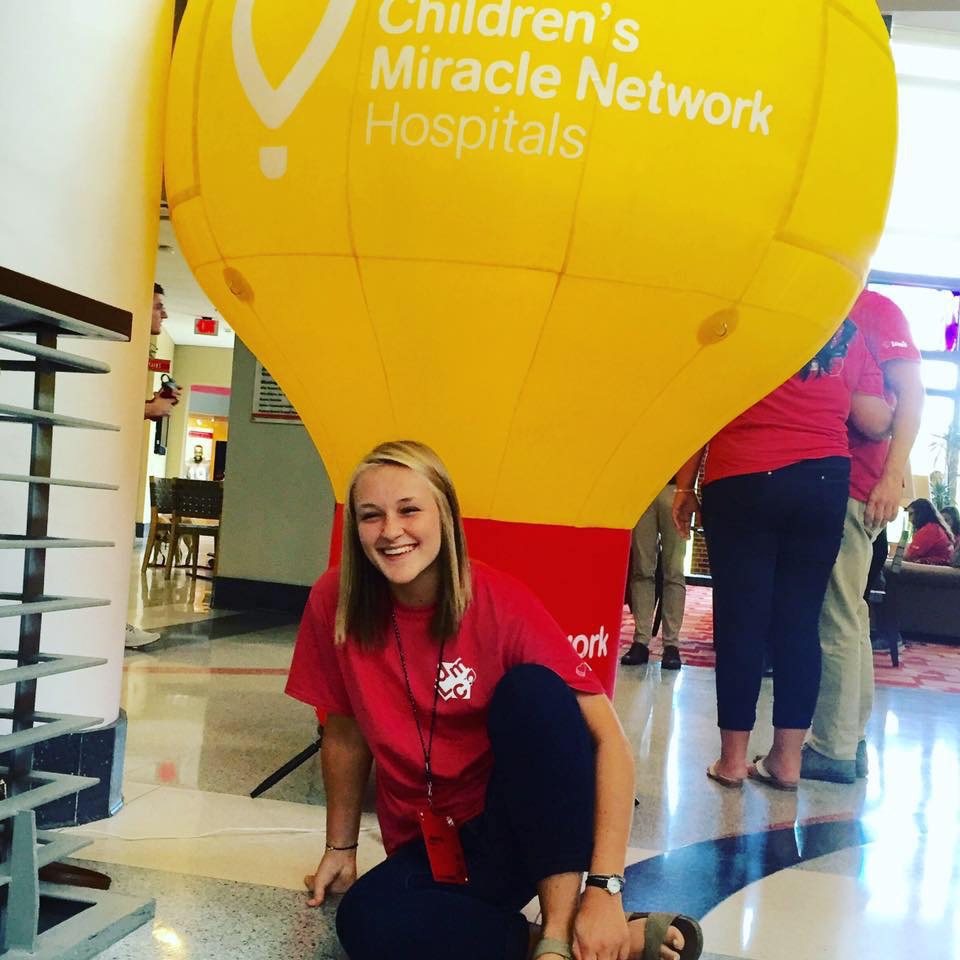 Campus/Community Involvement:
Treasurer, Student Nonprofit Leadership Organization (Fall 2016 – Spring 2018): Oversaw the financial operations of a group of 40 individuals raising funds for the Pay It Forward Initiative and facilitated grant making to 3-5 local nonprofits at the end of the academic year.
Student Life Committee Chair, Youngstown State University Student Government Association (Fall 2016 – Spring 2018): Managed 10 committee members planning activities related to elections and student body involvement.
Marketing Intern, Highmark Health (May 2018 – August 2018): Lead the strategic creative process of marketing materials (print, digital, direct mail, out of home, and commercial) for Allegheny Health Network at Saint Vincent Hospital.
Strategic Partnerships Intern, Children's Miracle Network Hospitals (January 2018 – May 2018): Managed projects and observed contract negotiations to maintain or secure national strategic partnerships, built educational resources for 300,000 Dance Marathon leaders and participants, and researched potential growth opportunities for the MNDM movement.
Marketing & Communications Intern, The Erie Community Foundation (May 2017- August 2017): Raised $4.4 million for over 375 nonprofit organizations in 12 hours on Erie Gives 2017, managed and updated the Foundation's social media (Facebook and Twitter) and website, communicated with the press about events as well as wrote and published two quarterly newsletters.
Member, Youngstown State University Honors College (2015 – present)
Member, Golden Key International Honor Society (2017 – present)
Member, Lamda Pi Eta – Iota Pi Chapter (2017 – present)
Graduate, Emerging Leader Program (Spring 2017)
Lifetime Member, Girl Scouts of America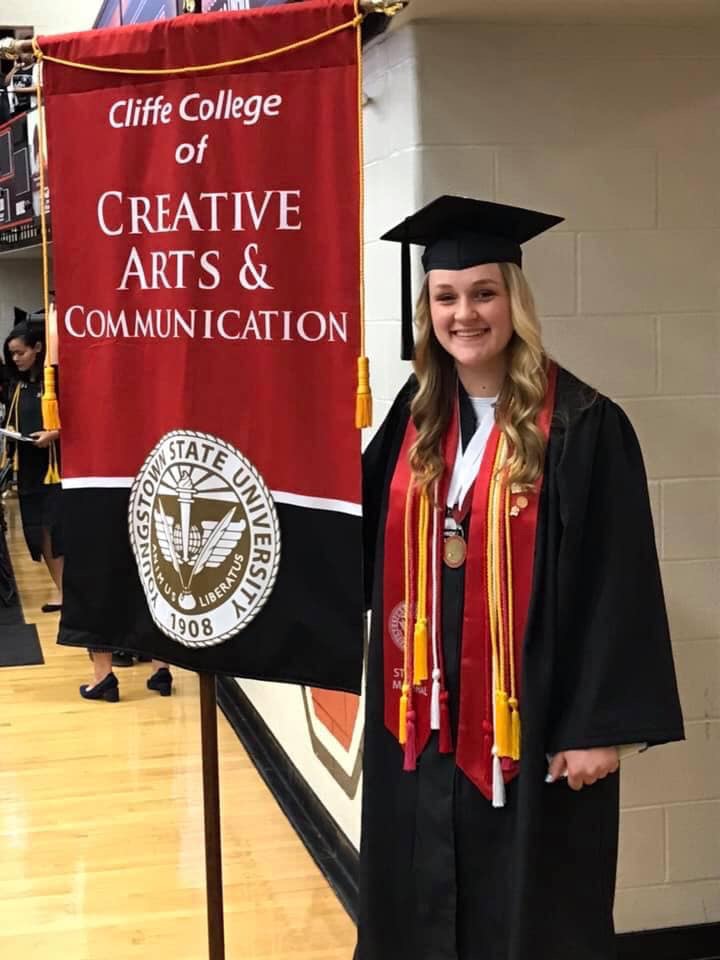 Awards/Recognition:
YSU Pin Award: recognizes five graduating seniors annually who have achieved academic success and demonstrated outstanding leadership, motivation, and creativity in university and community activities (Spring 2019)
Honorary Student Marshall: recognizes graduates who have worked with excellence and distinction over their college years (Spring 2019)
Orion Award: exceptional student organization (Spring 2018)
Constellation Award: outstanding university-wide event sponsored by a YSU student organization (Spring 2018)
Dr. Luke N. Zaccaro Award: for exceptional service to the university and fellow students (Spring 2017)
President's List: 7 semesters (Fall 2015 – Fall 2018)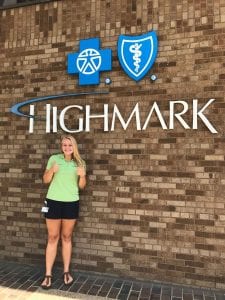 Post-Graduation Plans: I will be starting a new, full-time position at Highmark Health–an integrated financing and healthcare delivery system–in downtown Pittsburgh, Pennsylvania, in June 2019. I am working as a Leadership Associate, which is a rotational position with four placements over the next two years in various parts of the company. In the next five years, I plan to earn a graduate degree in Public Health and make my way into a managerial or leadership role at a corporate, mission driven company.
What personal accomplishment/contribution are you most proud of from your involvement in Dance Marathon?
I am most proud of creating Guinathon at Youngstown State University and contributing to the continued success of this program. After I attended DMLC in summer of 2016, I wrote down a few ideas on an envelope during the car ride home from Columbus. With time and determination, the ideas on that envelope turned into a 20+ member executive board, 200+ dancers at our main event, over $120,000 raised, and countless hours spent making miracles for our local Children's Miracle Network Hospital. My passion and determination was contagious enough to light fire in others on campus at YSU and create a movement that is here to stay.
Guinathon continues to increase fundraising year over year as well as involve a wider population of our students in supporting sick and injured kids and their families. I am most proud of the way I relentlessly dedicated myself to making Dance Marathon a successful event on YSU's campus and that now, just three years later, I can step back and watch others tell the story of how this all started with an envelope and why it is so rewarding to get involved with Dance Marathon at YSU.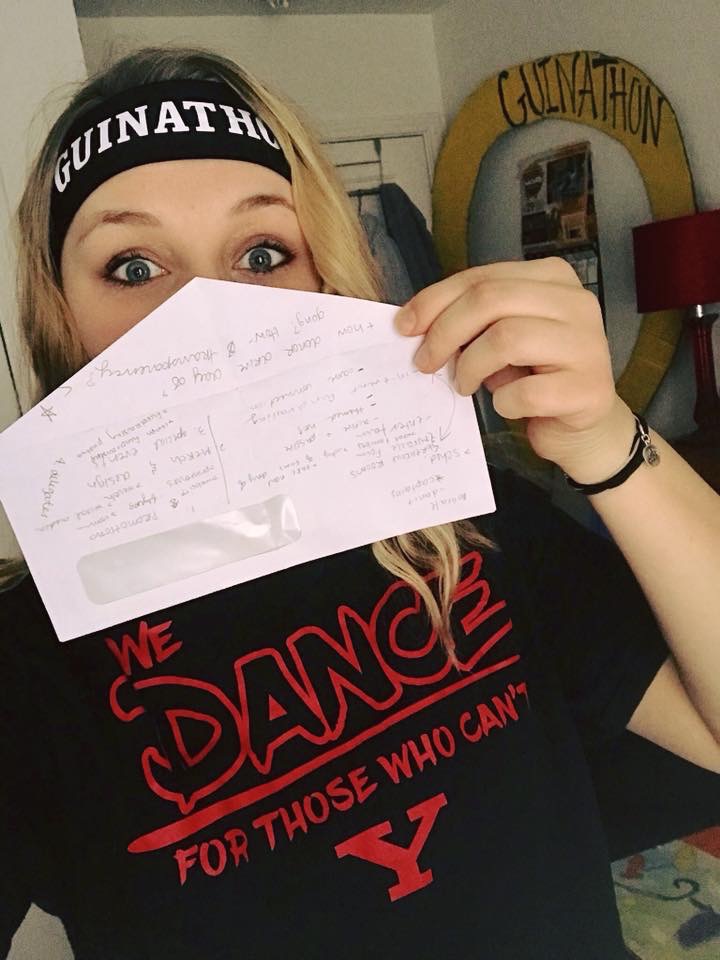 How has Dance Marathon impacted you as a student leader? What specific skills have you developed during your involvement?
Challenging myself to start a Dance Marathon has been the most rewarding, humbling personal development experience. I have learned practical employment skills, as well as gained the confidence and experience to lead groups, manage teams as well as mentor individuals. Countless memories, forever friendships and numerous mentors have been collected during my involvement serving my local community. While a part of Guinathon, I have made mistakes and talked through the issues to learn from my cohorts. I have witnessed passion light up in the eyes of group members who have finally figured out how to accomplish their dreams. I have comforted people amidst tears and encouraged them that they are capable and worthy of incredible accomplishments.
The most significant skill I have worked on while involved leading Guinathon, is patience. Other people work in entirely different ways than me, and I have come to understand this concept very well. Just because someone takes an alternative route, does not mean that how they are accomplishing a task is wrong. Rather, this situation creates a unique opportunity for me to learn a new way of working, which also serves as a reminder for me to value individuality. I have learned what it truly means to be a good listener, how it feels to surpass a goal that once seemed intimidating and also that sometimes things do not work out exactly as we planned, but that is completely okay.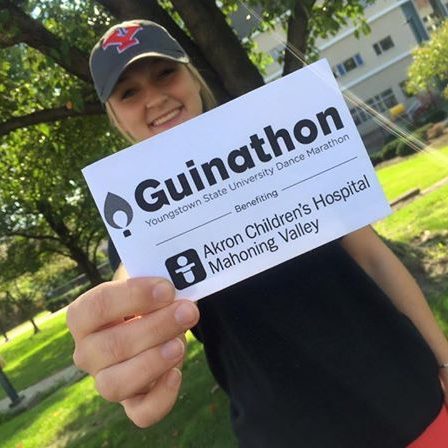 Why do you, personally, participate in Dance Marathon?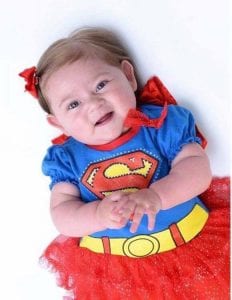 I participate in Dance Marathon for Aria Wharry. Aria was born in June 2015 with Shone's Complex which is a rare congenital heart disease that consists of multiple defects on the left side of the heart. Eight lesions are a part of Shone's and a child has to have 3 to be diagnosed. Aria had 7.
She survived her first open heart surgery when she was only six days old and her second at just five months. She inspired our community with her resilience, and it is not fair that Aria's beautiful life ended all too soon in December 2016.
I dance for Aria's parents and older sister, who–despite everything the world has thrown at them–are gentle, compassionate and dedicated wholeheartedly to keeping Aria's memory alive. I dance so Aria can look down on us and be proud of what we are doing locally to help more kids like her. I dance so more kids can get the childhood that Aria never had.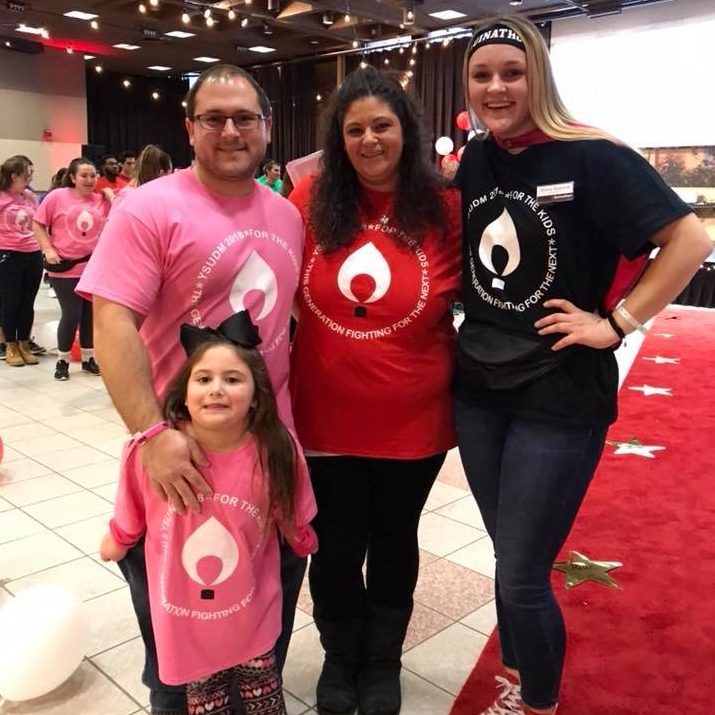 Why should students get involved with Miracle Network Dance Marathon on their campus?
Students should get involved with Miracle Network Dance Marathon because it will undoubtedly impact their lives. Whether it is as a dancer, donor, executive member, or another type of involvement, Dance Marathon has the power to touch people's hearts. Once people decide to get involved, hardship is put into perspective, inspiration pours into their minds and passion for doing everything they can to make a difference is set afire. Dance Marathon gives everyone the power to create positive change, no matter who they are, where they come from or the resources they can contribute.
Involvement with this cause can teach invaluable leadership and interpersonal skills that are beneficial both personally and professionally. Becoming a part of the Dance Marathon movement grants members access to an all-inclusive national family. The best thing about this supportive community that spreads all the way across North America is that its members know how to have fun. Dance Marathon participants are raising funds and awareness at the same time they are taking funny selfies, chasing little kids in an epic battle of freeze tag, ringing a gong to celebrate fundraising victories and pulling out their best (and, in some cases, worst) dance moves in honor of sick and injured kids in their local communities.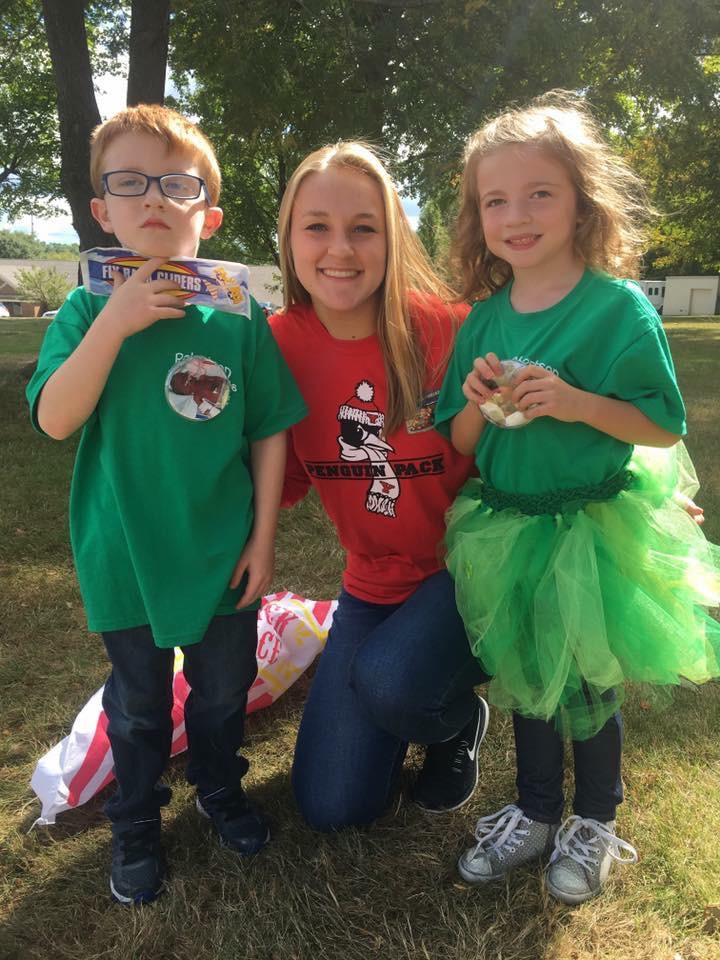 Why should people donate to their local Children's Miracle Network Hospitals?
People should donate to their Children's Miracle Network Hospitals because their dollars stay local to ensure quality of and access to care for children in their local communities. When donors are giving to their local CMN Hospital, they are aiding people who might be their coworkers, neighbors, relatives or friends. Donations can honor miracle kids who have lost their battles, and give hope to those who are struggling through a life-changing illness or injury currently. A $5 donation might not seem like much, but if we picture that gift as the diaper on a premature baby in the NICU, as a breakfast for a mom who stayed up all night comforting their four-year-old who just got diagnosed with cancer, or as a sticker that distracts a child during a painful injection, we harness the power to change lives. Would we rather spend another $5 on a drink from Starbucks? Or make a definitive impact on our local Children's Miracle Network Hospital? These decisions on the donor's part have the potential to positively alter a sick child's life at a time when they most need a little help.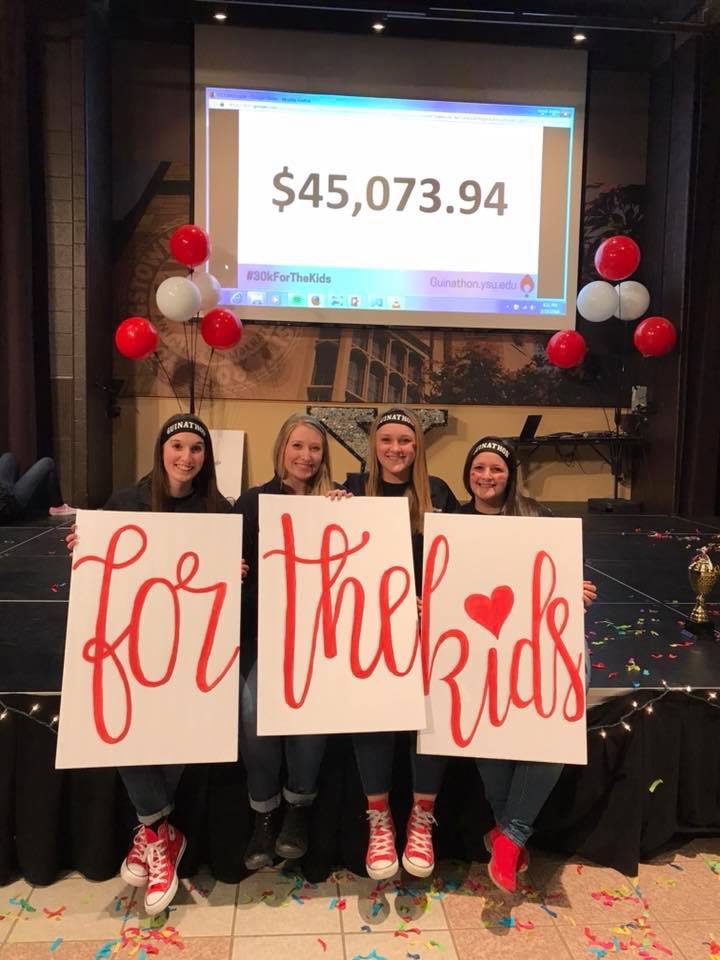 ---
Miracle Network Dance Marathon is an international movement, involving over 400 colleges, universities and K-12 schools across North America that fundraise for their local Children's Miracle Network Hospitals. Since its inception in 1991, Miracle Network Dance Marathon has raised more than $250 million–ensuring that no child or family fights pediatric illness or injury alone.
Learn more about Miracle Network Dance Marathon: